News
Top Disposable Vape Brands 2023: Honest Review & Recommendations
by Eli Unger on Jul 25, 2023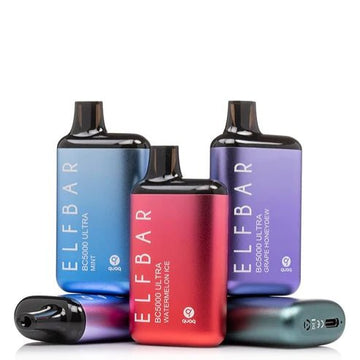 The vaping industry has experienced significant growth in recent years, with a plethora of disposable vape brands emerging in the market. For those who are looking to make the switch to vaping or are simply in search of top-quality disposable vape brands, it is essential to have a comprehensive understanding of the different products and brands available.

This article will provide an honest review and recommendation of the top disposable vape brands in 2023. The aim of this article is to provide an objective and thorough overview of the best disposable vape brands available in the market. We will explore the strengths and weaknesses of each brand, as well as their unique features and benefits.

Whether you are a seasoned vaper or a beginner, this article will provide you with the necessary information to make an informed decision about the right disposable vape for your needs. With our recommendations and honest reviews, you can enjoy the freedom and convenience of vaping with confidence.
ELFBAR Vapes
ELFBAR Vapes is a quality-based brand from China that has gained a reputation for consistent, portable, and user-friendly designs. The brand was awarded Best Disposable Vape Brand in 2022 by E-cig Click, a testament to its commitment to producing high-quality products. ELFBAR Vapes offers compact, pre-charged, non-refillable vaporizers that are dependable, with built-in 550 mAh batteries and a good number of puff counts ranging from 550 to 5000, depending on the series.

One of the pros of ELFBAR Vapes is their range of unique and delicious flavors. ELFBAR offers a variety of options, such as grapefruit, strawberry banana, and blueberry lemon, that promise a smooth and flavorful vaping experience. Customers have raved about the brand's reliability and ease of use.

ELFBAR also has plans for new series releases in the future, which will undoubtedly add to their already impressive lineup. When comparing ELFBAR to other Chinese disposable vape brands, they stand out for their consistent quality and user-friendly designs.

Overall, ELFBAR Vapes is a top contender in the disposable vape market, offering reliable, portable, and flavorful products that are worth trying.
IVG Vapes
IVG Vapes offers a diverse range of premium disposable devices that promise delicious puffs and potent hits. Each device is powered by a 500 mAh battery for a lasting vaping experience of up to 3-4 days.

IVG is a UK-based brand with a well-deserved reputation as a top vape brand. Compared to other UK-based vape brands, IVG stands out with its wide range of vape bars that cater to different tastes and preferences. IVG vape flavors are also among the best in the market, with a variety of unique and delightful flavors that vapers can enjoy.

IVG's commitment to providing high-quality vape bars is evident in its attention to detail in the design and production of its devices. The compact, disposable devices require no charging and are ready for use upon purchase. The 500 mAh battery powers each device, ensuring a lasting vaping experience.

IVG's diverse range of premium vape bars promises delicious puffs and potent hits, making them a go-to choice for vapers who want quality and variety in their vaping experience.

Overall, IVG is a brand that vapers can trust for premium disposable devices that deliver a satisfying and enjoyable vaping experience.
Other Top Disposable Vape Brands
Among the other leading players in the disposable vape market are Voopoo, Aspire, Uwell, and UPENDS, each offering unique features and product lines to cater to diverse vaping needs.

Voopoo, for instance, has rapidly taken the global vaping community by storm with its commitment to producing top-of-the-line devices. Its TPP-X and VINCI series of e-cigarettes exemplify this commitment with their impressive features and high-quality build. Additionally, Voopoo offers a diverse range of e-liquids with some of the best flavors in the market.

Aspire is another top disposable vape brand that stands out for its innovative, high-performing, and easy-to-use products. Its outstanding bar designs make a good amount of cloud and deliver powerful puffs for a streamlined vaping experience. Aspire products come in unique leak-proof, self-cleaning designs, and an array of incredible flavors.

Similarly, Uwell is widely recognized for its impressive selection of mouth-to-lung pods and sub-ohm tanks. It is a high-tech enterprise with an unparalleled quality control system, and its products come in unique leak-proof, self-cleaning designs, and an array of incredible flavors.

Finally, UPENDS is an up-and-coming brand that offers classic and reliable vape products sourced from China's foremost e-cigarette foundry. Its products are ready for use with no special skills required, and it offers a wide range of selections with inexpensive yet classic products available.
Frequently Asked Questions
What is the average lifespan of a disposable vape?
The average lifespan of a disposable vape varies depending on the quality of the product, durability and maintenance, user experience, and cost-effectiveness. However, in general, disposable vapes can last up to a few days to a week before needing to be replaced.
What is the difference between mouth-to-lung pods and sub-ohm tanks?
Mouth-to-lung pods and sub-ohm tanks are two types of vaping devices that differ in their coil resistance. Mouth-to-lung devices have higher resistance coils and create less vapor, while sub-ohm tanks have lower resistance coils and produce more vapor for direct-to-lung inhalation.
Are there any health risks associated with using disposable vapes?
The long-term effects of disposable vapes are not yet fully understood. Industry regulations are lacking, potentially leading to harmful ingredients. Potential alternatives and harm reduction strategies include nicotine replacement therapy and gradually reducing nicotine intake.
Can disposable vapes be recycled or disposed of in an environmentally friendly way?
Recycling options for disposable vapes are limited due to their complex components, including batteries and plastics. Improper disposal can have a negative environmental impact, and efforts should be made to properly recycle or dispose of them.
How do disposable vapes compare in terms of nicotine strength and flavor options to traditional e-cigarettes?
Disposable vapes and e-cigarettes have pros and cons in terms of nicotine strength and flavor options. Disposable vapes offer convenience and variety but lack the customization and strength options of traditional e-cigarettes. Flavor preferences vary between the two.