News
Everything You Need To Know About Elf Bar Disposable Vapes
by Eli Unger on Aug 01, 2023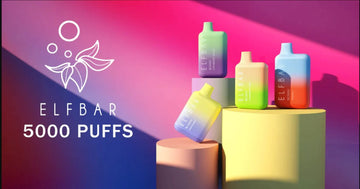 Are you looking for a way to break free from traditional smoking? The Elf Bar disposable vape is the perfect device for those who want a little liberation. Whether you're new to vaping or an experienced user, this powerful device offers everything you need in one convenient package. With its sleek design and advanced technology, it's no wonder why so many people are turning to the Elf Bar disposable vape. In this article, we'll take a closer look at what makes this product so great - discussing features, performance, and more! So if you're ready to make your escape into the world of vaping - read on and find out all there is to know about the Elf Bar disposable vape.
Overview Of Elf Bar Disposable Vapes
I'll start with the basics. The ELF Bar Disposable Vape is a sleek, slim-bodied e-cigarette device that's been designed for convenience and ease of use. It contains an integrated battery and pre-filled nicotine salt liquid. You don't have to worry about recharging or refilling it - just charge it up and you're ready to go!

The e-liquid in these vapes has a wide range of flavors from menthol to fruit, so there's something for everyone. Plus, they come in various strengths ranging from 0mg all the way up to 5%. So whether you want something strong or mild, there's sure to be one that suits your taste buds.

One great thing about this vape is its portability; it fits conveniently into any pocket or bag without taking up too much space. And because it's disposable, you won't have to worry about running out of juice before you get home - no need for messy refills either!

These devices are also easy on the wallet; they cost less than most other brands of disposable vaporizers. So if you're looking for an affordable vaping solution that delivers quality flavor at a fraction of the price, then look no further than Elf Bar Disposables!
Benefits Of Using An Elf Bar Disposable Vape
Vaping is a great way to relax, and the Elf Bar Disposable Vape makes it even better. This device packs a punch with its incredible features – offering convenience and satisfaction in one sleek package. With this vape, you'll get all the benefits of vaping without any of the hassle. Here's why an Elf Bar Disposable Vape should be your go-to choice for relaxation or recreation.

The first major benefit of using an Elf Bar is its portability. It fits easily into your pocket or purse so you can take it anywhere and enjoy a puff at anytime. Plus, the battery life is long enough that you won't have to worry about recharging often! And because it's disposable, there are no messy liquids to clean up after use – making it perfect for relaxed settings like camping trips or outdoor events where cleaning supplies aren't always available.

Next, let's look at how easy these vapes are to use. The design is simple: load your preferred flavor cartridge onto the device, press a button to activate it, then inhale from the mouthpiece – that's all there is to it! No complicated settings or adjustments here; just plug-and-play simplicity that anyone can master quickly – ideal for beginners who want something fuss-free but effective.

Finally, we come to cost savings – another key factor in deciding which vape product to buy. An Elf Bar costs less than purchasing individual components separately due to bulk discounts offered by many retailers; plus, since they're reusable and made out of sturdy materials such as stainless steel, they last longer too! So not only do you save money upfront but also over time thanks to their durability and reliability - further justifying their value proposition in comparison with other products on the market today.

Whether you're looking for stress relief after work or need a little extra zing during social gatherings, an Elf Bar Disposable Vape provides everything you need for maximum enjoyment with minimum effort – giving users an enjoyable experience every single time!
Different Varieties Of Elf Bar Disposable Vapes
"Variety is the spice of life." With that being said, Elf Bar disposable vapes come in a variety of flavors and styles. Whether you're looking for something sweet or savory, there's an Elf Bar vape for everyone!

From their classic fruit-flavored line to their more unique offerings like mint chocolate chip and mango chili lime, the possibilities are endless. You can even choose from different shapes, sizes, and nicotine levels - making it easy to find one that fits your needs perfectly. Plus, they all come pre-filled with enough e-juice to last up to 400 puffs so you don't have to worry about refilling or recharging them.

Elf Bar also offers pod mods and other advanced vaping devices if you're looking to take your experience up a notch. Their devices feature adjustable wattage settings, refillable cartridges, and temperature control capabilities - allowing you to customize your vaping experience however you want. And since these devices use proprietary coils designed specifically for Elf Bars' e-liquids, they guarantee maximum flavor every time.

So whatever kind of vape user you are - beginner or experienced - there's sure to be an Elf Bar device out there that suits your style and taste. From simple disposables to powerful mod systems, this brand has something for everyone!
How To Use And Operate An Elf Bar Disposable Vape
Using an Elf Bar disposable vape is surprisingly simple. In fact, 90% of first-time users can get the hang of it within a few minutes. Here's how to use and operate one.

First off, remove the plastic covering on the mouthpiece when you open your package. Then pull out the device itself - it should fire up automatically. Once that's done, just inhale from the mouthpiece like you would with any other vaping device. The LED indicator light will tell you whether or not it's working properly.

Next, adjust the settings if needed by pressing down on the power button three times quickly in succession. This'll change between low (green), medium (blue) and high (red). Keep experimenting until you find what works best for you!

Finally, after several uses or when your Elf Bar runs out of liquid, simply throw away responsibly according to your local waste disposal regulations. It's really that easy - no refilling necessary whatsoever so there's no mess involved either! And because these devices are designed for single-use only, there won't be any cleaning required either which means more time for enjoying yourself without worrying about maintenance tasks!
Conclusion
It's safe to say that the Elf Bar Disposable Vape is a great way to enjoy your favorite flavors without any of the hassles. It's simple, convenient and reliable - like a faithful friend you can always turn to for a good time. With its wide variety of styles and options, there truly is something for everyone when it comes to this device.

Using an Elf Bar Disposable Vape is as easy as falling off a log - all you have to do is open up the package, charge it if necessary and puff away! Maintenance and cleaning are also quick and painless, making sure that your experience with this vape will be enjoyable every single time. Plus, with plenty of accessories available on the market today, customizing your experience has never been easier.

In short, an Elf Bar Disposable Vape provides a smooth ride through vapor town - like riding in a luxurious limousine compared to taking public transportation. So why not treat yourself or someone special to one today? You won't regret it!